Visualizing and Managing Infection Prevention

HAIgiaTM Dashboard transforms dull and static infection data from the Center for Medicare and Medicaid Services (CMS) into a visual, interactive infection prevention tool and integrates your business information such as training, human resources, inventory, and facilities management into a single console. With this new perspective on your data, make informed decisions to lower healthcare-associated infection (HAI) rates, better train environmental services personnel and manage facilities, and increase revenue. The environmental services world is full of overwhelming data from both governmental and internal sources. HAIgia Dashboard efficiently decodes this information for optimal infection prevention and patient safety by managing and analyzing the cleaning environment. Infection prevention decision support has never been easier.
HAIgia Dashboard in Slides
Learn about mobile forms capture.
"HAIgia" Explained
We borrowed the goddess "Hygieia" for the name of our HAI (healthcare-associated infections) prevention analytics family of products and played on the Latin spelling, "Hygia". Hygia was the daughter of the god of medicine, Asclepius and is the personification of health, cleanliness and sanitation. While Asclepius was associated with healing, Hygia was associated with the prevention of illness and continuation of health. At DocuFi, our HAIgiaTM family of products integrate to create an environment for healthcare managers to understand and control their environmental infection fighting efforts in the pursuit of illness prevention and increased revenue.
Monitoring and Managing your Environment through an Integrated Dashboard for Maximum Infection Prevention and Cost Control
Here are a few capabilities our integrated HAIgia Dashboard can provide. 
Explore: 

See your facilities HAI rates, and HAC and HCAHPS scores. With human resource integration, view the training status and CDC inspection audits of your cleaning professionals. With integrated facilities management, see utilization rates at a glance.

Monitor/Analyze: 

Set your own specific thresholds for HAI rates, quality inspections and more and quickly spot issues with color-coded warnings. Compare your facility to system level performance.

Act:

Assign staff to training for corrective action for improved infection prevention. With better facilities and inventory monitoring, experience increased efficiencies.
The dashboard presents visual and numeric summaries of information about selected hospital or facility units. This includes HAI standardized infection ratios, HCAHPS/HAC scores, departmental data, and more. A familiar navigation tree allows users to easily view staff reporting structure and select a specific facility to monitor their key performance indicators (KPI).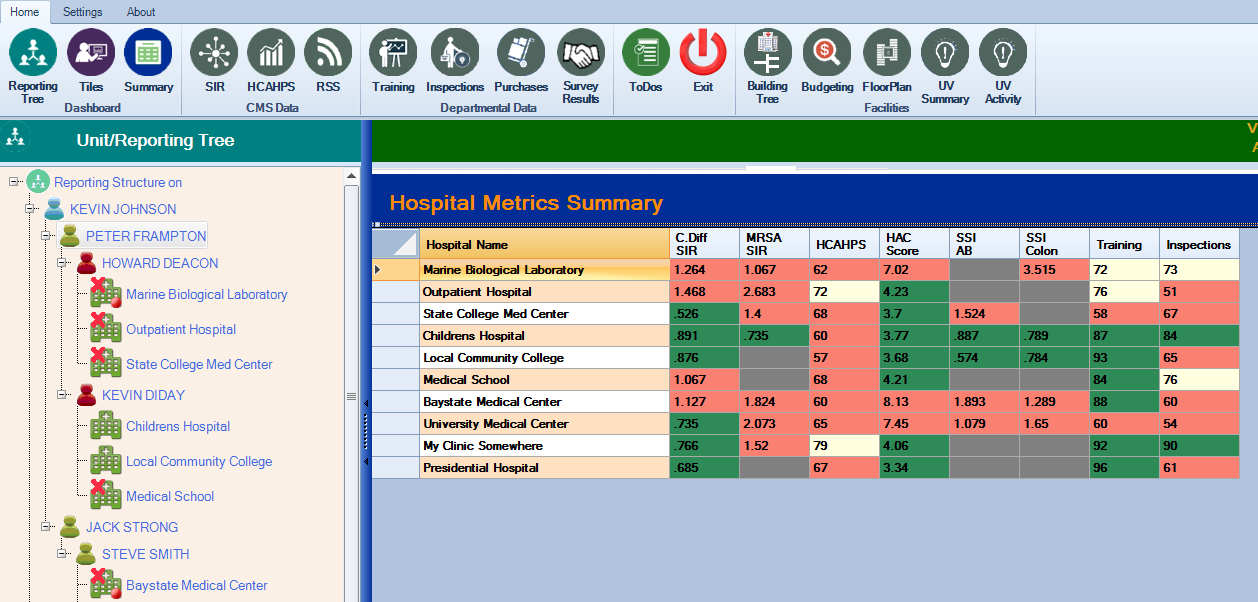 Illustration:  The Unit Reporting Structure Tree and the summary view of unit performance.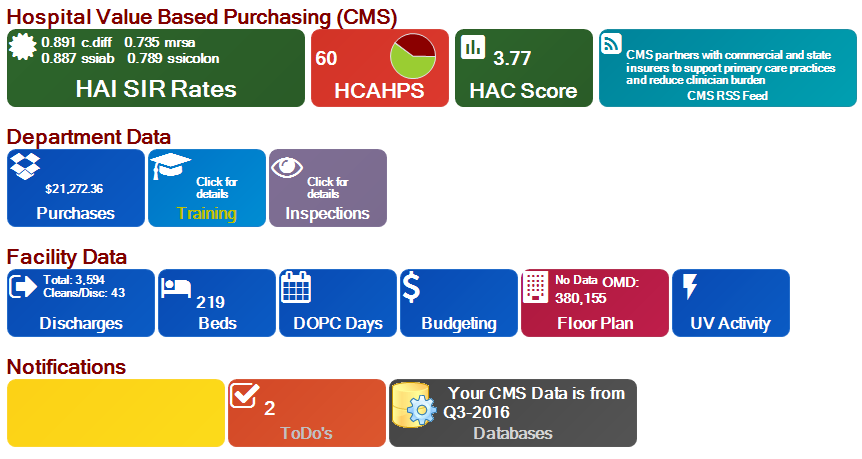 Illustration: When a unit is selected, the tile view shows key metrics with color-coding for quick reference. You can select tiles to drill down into more detailed information. The green tiles represent acceptable performance and red tiles represent unacceptable performance based on your threshold settings.
Compare and Monitor SIR Numbers in Graphic Form
Review the select hospital's CMS rates and scores for C.diff., MRSA, SSAColon, and more. Any company internal performance metrics can be integrated as well and shown graphically over time. Select a tile to easily drill down for more detailed analysis. Compare how a single hospital unit performs against the hospital system as a whole or by region or hierarchy.

Illustration:  Key Performance Indicator information can be presented in various chart formats. Format can be customized by DocuFi to your specifications: bar, pie, scatter, etc.
Integrating Online Learning
While online learning management systems (LMS) have been helping companies deliver instruction for quite some time, DocuFi has taken online learning a step further with integration into the HAIgia Dashboard. By integration into our dashboard technology, decision makers can reduce costs through proactive learning enrollment. Not only can key personnel see their employees' learning history, they can also track such information as quality assessments and reviews. Tying quality assessments with our learning system allows decision makers to easily, and often automatically, assign employees to needed courses or direct them to video tutorials. The HAIgia Dashboard has been integrated with JoomlaLMS, a leading online learning management technology, to deliver critical staff metrics and training options from a single platform.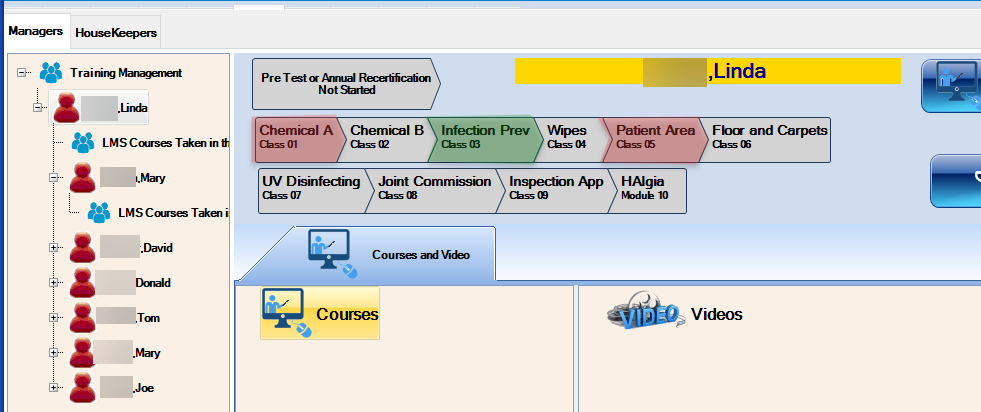 Illustration:  The training progress interface lets managers see employee progress and enroll employees in online classes. Enrollment can be automatic through a proficiency testing mechanism or accomplished manually through a few clicks of the mouse to individualize training.

Here are a few of the possibilities for environmental services housekeeping staff integration.
View historical training from your existing system and progress through the HAIgia Dashboard online learning.


Automatic enrollment in the appropriate class based on failed inspections. Learn more about inspection information which can be tracked by the dashboard, if available below.




Managing Cleaning Staff Performance: Integrating Inspection Audits
Do you test your environment with black lights by either in-house staff or a third-party? Do you perform other quality inspections? With your human resources data and inspection data integrated, mangers can review housekeeping staff performance quality as related to inspection audits. Easily review entire teams with simple and intuitive overviews and precise audit reporting. Review overall performances and month-to-month inspection audits. Take action on the information and automatically direct staff to online learning classes or videos for refresher training.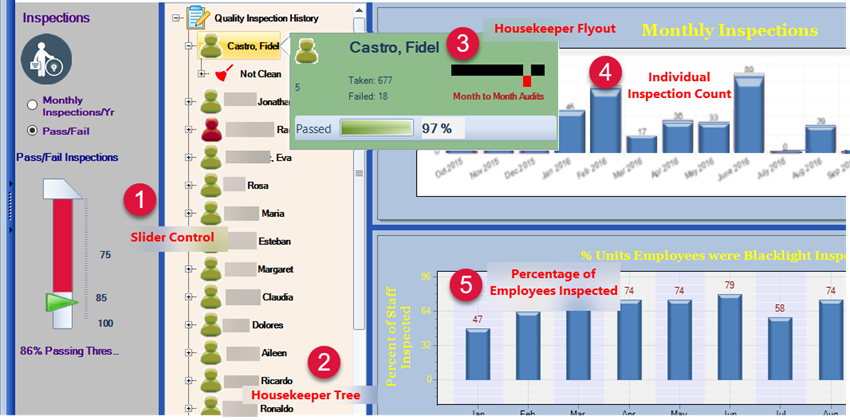 Illustration:  Select an individual housekeeper to view month-to-month inspection in the right panel and drill down for further information on failed inspection items and training.

 Audit Pass Fail Review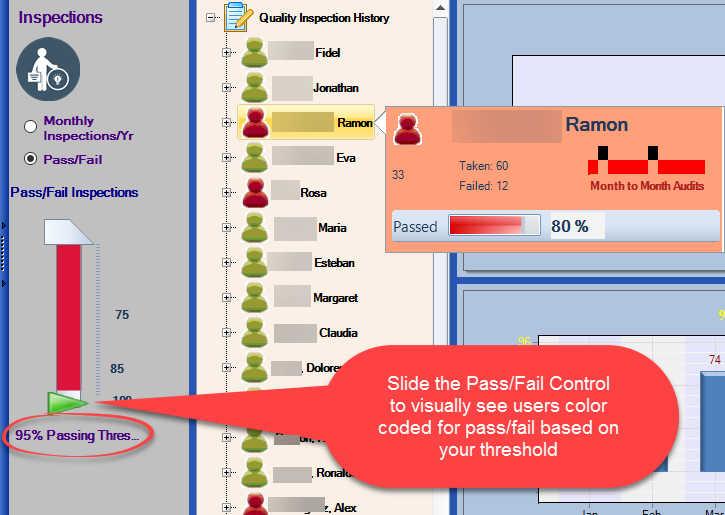 Illustration:  Use the Pass/Fail slider to quickly identify staff failing at a designated threshold. Click on an employee name for more detail.
Black Light Inspection Example: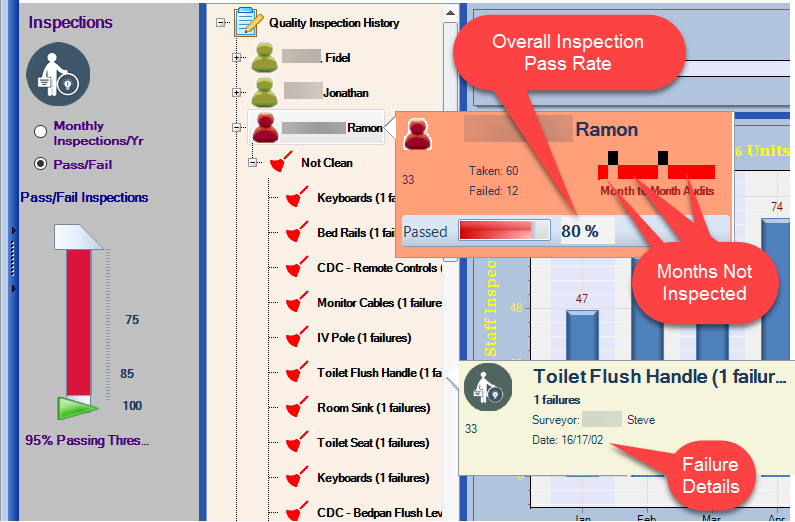 Illustration:  Inspection data, from sources such as black light inspections, can be presented to highlight trends and deficiencies. Failure thresholds can be implemented to automatically direct the employee to retraining via online learning or video tutorials.
Facilities Management Integration
DocuFi can effectively help you manage your hospital and medical facility physical space by incorporating your computer-aided design (CAD) drawing files and environmental services information into the DocuFi/CAFM solution. Integrating partner software from Simple Solutions FM, CAFM Resources and UndergroundGIS, our integration solution allows you to assign space classes which can be used for infection prevention analysis, reimbursement, cleaning management, and asset and inventory management as well as help you manage the underground lifeline to your facility. Integration of infection disinfectant system data through our HAIgia Mobile platform can provide you with actionable infection prevention. This data, collected from UV disinfection and vaporized hydrogen peroxide disinfection equipment, can assist you with decisions on how the equipment should be used and where infection problems are manifesting. Our integration services can transform the space management data into a visual, interactive tool to guide decision makers with the HAIgia Dashboard. Learn more.

Illustration:  Facilities data can include floor plan information, room classification, disinfection equipment data analysis, equipment inventory and more.
Purchasing Integration
Purchasing data can be integrated with the HAIgia Dashboard for quick access to information such as part numbers, Material Safety Data Sheets (SDS) and manufacturer contact details. Additionally, purchasing trends can be tracked with the dashboard's graphic capability.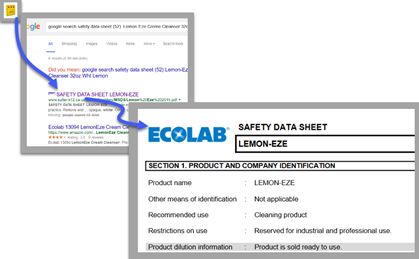 Illustration:  Purchasing data can be viewed by category and by month. The flyout offers specific product information, email to the manufacturing representative, and an internet search for the Safety Data Sheet for the selected item.
HAIgia Mobile for Easy Data Capture and Integration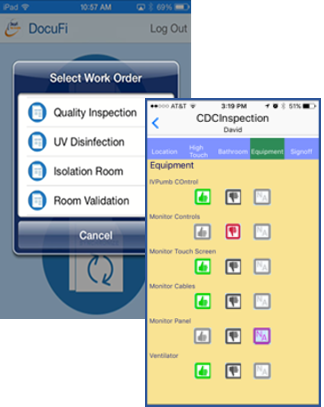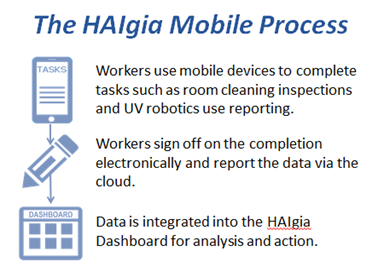 HAIgia Mobile can save time, reduce costs, and eliminate paper and data entry errors by automating capture of task-related forms and reporting. Combining HAIgia Mobile with HAIgia Dashboard offers detailed analysis of the data providing actionable information to help you in the fight against healthcare-associated infections (HAIs) and increase your Hospital Value-Based Purchasing incentive payments.
Common, familiar mobile graphical interface features such as touchscreen entry and scroll data selection practically eliminate the need for application user training. Learn how HAIgia Mobile can easily capture cleaning staff inspection audits, UV or misting disinfection discharge events, room discharge notices, bed turnover inspections, room classification updates and more.
Other Integrations to the Dashboard
Take the HAIgia Dashboard even further and integrate other key information such as inventory and budgeting. If the information is available from a database feed, we can link your key performance indicators and give you instant access with alerts, tracking, and reporting.
Contact us for a Demonstration
Contact us for a demonstration and let us understand your data metrics and possible integrations. We want to help you make informed decisions to lower HAI rates, better manage and train your environmental services personnel and facilities, and increase your revenues.